Welcome back to the blog! As we get into late winter, we thought it would be a good time to go over some tree care steps you can take as the snow falls less and less. What can you do personally, and what should you have a professional tree service company handle? Let's get into it.
Three Winter Tree Care Tips for WNY
Tree Trimming and Pruning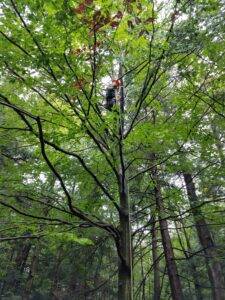 Trimming and pruning trees in spring, summer and fall tend to not be the best idea. There are exceptions for various tree species, so you should check the best practices for each tree. The reason for this general timeline is that sap flow in late winter is more viscous and will attract fewer insects. Sap attracts insects, so a combination of a slower sap flow and fewer insects out in the winter means the wounds from trimming and pruning can heal properly. Insects can carry fungal diseases that damage and could kill your trees.
Tree Pruning and Trimming Tips
We have a pretty in-depth guide to personal tree pruning care for your convenience here. Remember, if you're uncomfortable performing any cuts to your trees, our ISA-Certified Arborists would be glad to swing by and consult with you.
In between trees being pruned, you should sanitize your shears so that you don't inadvertently transfer any fungal disease.
Weak, v-shaped branches are ok to be pruned. Leave u-shaped branches.
If the branch is more than 10cm thick, only a certified arborist should remove it. These branches could still be strong and supportive, and deceptively heavy.
If you're trimming for cosmetic reasons, never remove more than 25% of the crown of a tree in any given year.
If the tree is within 10ft of a power line, an ISA-Certified Arborist needs to be the one to work on the tree.
Tree Debris Cleanup
You should have already taken care of the broken twigs and fallen leaves in the autumn before the snow came in. However, a few may have blown up against your trees. Some could also have fallen later than usual and got covered by the snowfall. Fungi can breed in these piles and cause tree diseases like various leaf spot ailments. Rake this debris away and dispose of it properly to kill potential fungi.
Fertilization
Late winter is also a good time to use fertilizer on your trees. This way, you allow for some time for the nutrients to soak into the soil. The trees then get that nutrition from the soil in the growing season.
For fully mature trees, you only need to fertilize them every few years. Trees within the first year of planting do not need to be fertilized. There are several times throughout the year when you can fertilize and have beneficial effects on your trees, but you typically don't need to apply fertilizer multiple times in a year.
Of course, if your tree's leaf coverage is thinning, then you can apply fertilizer a little more readily. Our local, professional tree care service's arborists are available to consult with you on how much mulch you should use and how often you should apply it to your trees if you're unsure.
The Professional Tree Care Service in Business for Over 40 Years
Bradley Tree and Landscaping have been in the arbor business for over four decades, since 1982. That makes as tied to the Buffalo, NY area as anyone and the perfect choice for your tree care needs. A big box, national company could do it, but we know native from invasive species to the region, best care for our climate, and more of the minutiae of landscaping needed here.
Our extraordinary service through generations has driven Olmstead Parks to recognize and reward us with taking care of their oldest oak trees. Tree care can be risky, so entrust your tree services with the best arborists in Buffalo.
Contact Us!
Stay tuned to the Bradley Trees blog! We regularly go over some basic tree care tips and general guidelines on keeping your landscape and plants healthy! You can also check out our FaceBook and YouTube pages for more arbor info.
Here at Bradley Tree and Landscaping, we go to great heights to please you. Get in touch with our ISA-Certified Arborists today by calling us or filling out an online contact form for a FREE first consultation!