Tree pruning is an art form and a science. While it is true that different tree species have different times when pruning would be the most effective, for the most part, the season is Winter. Except for trees that rely on old growth. Read on for more details!
You see, in the Spring and Summer, when you would think it would be a good time to do some tree pruning, you're actually encouraging the tree to have new growth in the winter. However, in the winter, that new growth will not survive.
"Proper pruning techniques allow the tree to thrive"

-Jared Webber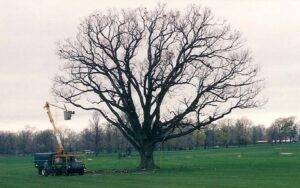 Are Tree Trimming and Tree Pruning The Same?
While a common misconception, they're very different acts to the tree. We wrote up a whole guide for you here, but allow us to restate and summarize for you.
To answer this question, let's start by looking at some definitions. Tree trimming is commonly defined as the shaping of a plant to meet a specific design or remove overgrown branches. Tree pruning on the other hand is defined as a process that takes the whole tree into account to make cuts that keep the tree healthy and free of disease.
A funny difference between tree trimming and pruning is that trimming is done mostly to smaller shrubs, bushes, and trees while pruning is almost exclusive to taller trees.
Prune your WNY Trees during their dormant season
It's ideal to prune during the dormant season so that growth happens as the flowering season begins. Especially for young trees, pruning while dormant is great tree maintenance.
As we mentioned up top, flowering trees tend to be best pruned in late spring or early summer, after the flowers have come and gone. You don't want to remove the buds and lose blooms, after all! There's an exception here though: Some trees that flower after the end of June can be pruned in late winter or early spring.
Winter Tree Pruning Benefits in Buffalo
There are many benefits to pruning during the winter! Remember, proper tree pruning will not only keep your trees healthy but also enhance the shape, look and growth of your trees. Winter pruning means you can see the entire branch structure of a tree, without the leaves getting in your way. Pruning dead, diseased or broken branches removes the risk of those particular branches falling during a storm. Pruning also helps trees grow in the proper direction, and withstand windstorms, rain and thunder, and heavy ice and snow while improving their airflow.
Plus, tree pruning cuts heal faster in the cold! And the colder temperatures make it less likely for insects to burrow inside the cut and infest the tree because they're less active during this time of year. How neat!
We get that tree pruning can be intimidating because there are so many rules to keep track of in order to ensure that your tree is healthy. We made a tree pruning guide to check out to answer some basic questions and calm some fears you may have here. Of course, if it's a larger job or you're not comfortable, please get in touch with a Buffalo ISA-Certified Arborist to ensure the job is done right.
Remember, any cuts you make can last the life of the tree, so take care to do it in the best way possible. If you have any concerns about tree risk management and assessment and/or plant healthcare, please do call right away.
"Our best customer is an educated customer… Our goal is to have every customer understand their trees."

– Jared Webber
Contact Us For Your Tree Care Needs!
Bradley Tree and Landscaping is the premier tree care service in the Buffalo region! No need to keep searching for "tree care companies near me." We are always eager to educate and assist. Keep up to date with our blog and social media channels! Here on the blog we regularly post guides on things like tree maintenance and tree risk management and on our social you can follow along with the arbor fun. Get in touch with the best ISA-Certified arborists in Buffalo today by giving us a call or filling out a contact form for a FREE consultation.