Welcome back to the Bradley Tree blog! A few months ago, we went over some reasons why you need to have a certified arborist do your tree service. Earlier we also gave you a guide on calling a professional for emergency tree removal. Let's call this another entry in a series about getting your tree work done safely. Today let's narrow that focus to why it's dangerous to do this work yourself.
3 Reasons Why its Dangerous to do Your Own Tree Care Work
Reason 1 Lack of Knowledge and Training
Doing tree work safely requires specialized knowledge of tree physics and biology. Felling a tree in a controlled manner is not as simple as cutting through with a chainsaw. Yes, anyone *can* do that, but it won't be done in a safe manner. Safely felling a tree requires establishing a drop zone, making precise cuts, and more often than you'd think guiding the tree safely to the ground with ropes.
An untrained homeowner trying to cut down a tree without these safety precautions puts themselves, their property and anyone nearby at risk. Many homeowners are injured and/or killed by their lack of knowledge and preparation.
Reason 2 Lack of Situational Awareness
Even if you know your way around trees, environmental and situational hazards can still present themselves. For example, electrical wires are a very common occurrence in this line of work. Every year, amateur tree workers are injured or killed by coming into contact with live, energized lines, either directly or indirectly, through tools and tree limbs. Even for professional, ISA-Certified arborists, safely maneuvering this danger is tricky. If the work is near a wire, call a professional.
Up-ended root balls are also unpredictable. Severing the trunk of the tree from it root plate releases tension, which could cause strong whiplash as it falls back into its hole, trapping anyone and/or anything underneath. And that doesn't even get into problems that could be invisible to the non-ISA Certified arborist eye, such as disease and pests.
Reason 3 Poor Quality and/or Improper Use of Tools
People using incorrect, faulty or complicated tools put themselves and others at risk while attempting to do tree care work. Getting back to chainsaws as an example, they're dangerous and incredibly easy to misuse. One of the most common mistakes people make with chainsaws is using a dull blade, causing the operator to use more pressure, which leads to a loss of control.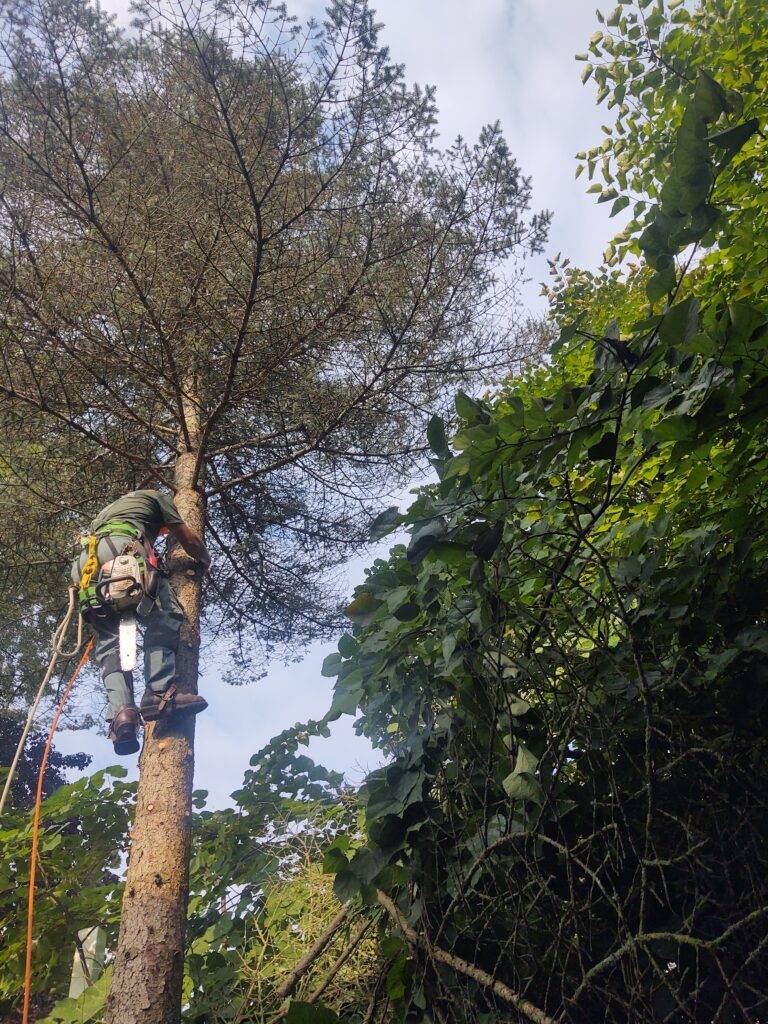 People also misuse ladders fairly often. Using a short ladder, an unstable ladder, or having bad supports are recipes for disaster. Same with using the wrong kind of ladder, a step ladder or painting ladder aren't proper tools for tree work. Arborists use special tripod ladders that offer more support, especially on uneven terrain, when ladders are used over highly specialized equipment like aerial lifts.
Speaking of, that highly specialized equipment are things that homeowners just don't have access to. Stump grinders, woodchippers, aerial lifts, and more are vital tools of the trade that only arborists bring along.
Contact Us!
Make sure to stay up to date with our blog for more tips and tricks for your Buffalo, NY landscaping and tree work. You can also find us on Facebook for more arbor fun! We want to help make your Buffalo, NY landscape as beautiful as possible. Here at Bradley Trees, we believe the best customer is an educated one, so we provide as many tools as possible to keep you as informed as possible. Check out the services that our certified arborists offer!
Reach out and call us at 716-293-2219 or by filling out our contact form!