Welcome back to the blog! Today, we wanted to go over a guide on an invasive tree pest species, the Asian Longhorn Beetle. This guide today will go over their basic lifecycle, how to identify Asian Longhorn Beetles (ALBs), their impact and typical host trees.
We have done a guide previously on Emerald Ash Borer Identification and Treatment before, see that here. Also, we have a video about our treatment and control methods for this invasive pest.
A Bit of Asian Longhorn Beetle History
ALBs first originated in Asia, their native habitat. They affect hardwood trees primarily, such as maples, chestnuts, elms and others. ALBs likely made their way to the US via wood shipping and packing material. This invasive species was first noticed here in 1996 in Brooklyn, NY, later found in Chicago in 1998, a few NJ counties in the early 2000s, was found in Toronto, Canada by 2003, Massachusetts in 2008, and in Ohio by 2011. It's still spreading, and the USDA Animal and Plant Health Inspection Service is performing eradication efforts around the country.
Biology of Asian Longhorn Beetles
ALB adults can reach an inch and a half in length, with antennae up to twice as long as its body. The beetle is a sleek, shiny black with white markings. Adult beetles are most active in the summer, particularly in August. Females deposit 35-90 eggs into the bark of trees, into depressions they made by chewing into the bark.
After hatching, beetle larvae feed by chewing further through the bark still and into the fresh sapwood (cambium) underneath. They then tunnel into the heartwood (xylem), where they eat over the winter and form larval galleries through the tree. Between June and October, the adult beetles emerge from a hole a little under a half-inch in diameter, marked by sawdust around holes and sap pouring from the wound.
Which Kinds of Trees are Affected?
ALBs target multiple varieties of hardwood trees. Specifically, they decimate red maple, sugar maple, Norway maple, sycamore maple, silver maple, boxelder, horse chestnut, various willows, and American elm. Various birches and sycamores are also attacked.
Other varieties of affected trees are ash, katsura, mimosa, golden raintree and poplar trees.
This chewing and burrowing through wood layers ruins the value of the tree and can easily kill it by choking the tree out. Scars left by the adult beetles leaving make it easier for other insects and diseases to attack the tree too. The ALB kills valuable shade and park trees and injures/kills forest trees. Additionally, the weakened structural integrity of infested trees and branches poses a fall risk to unknowing passers-by.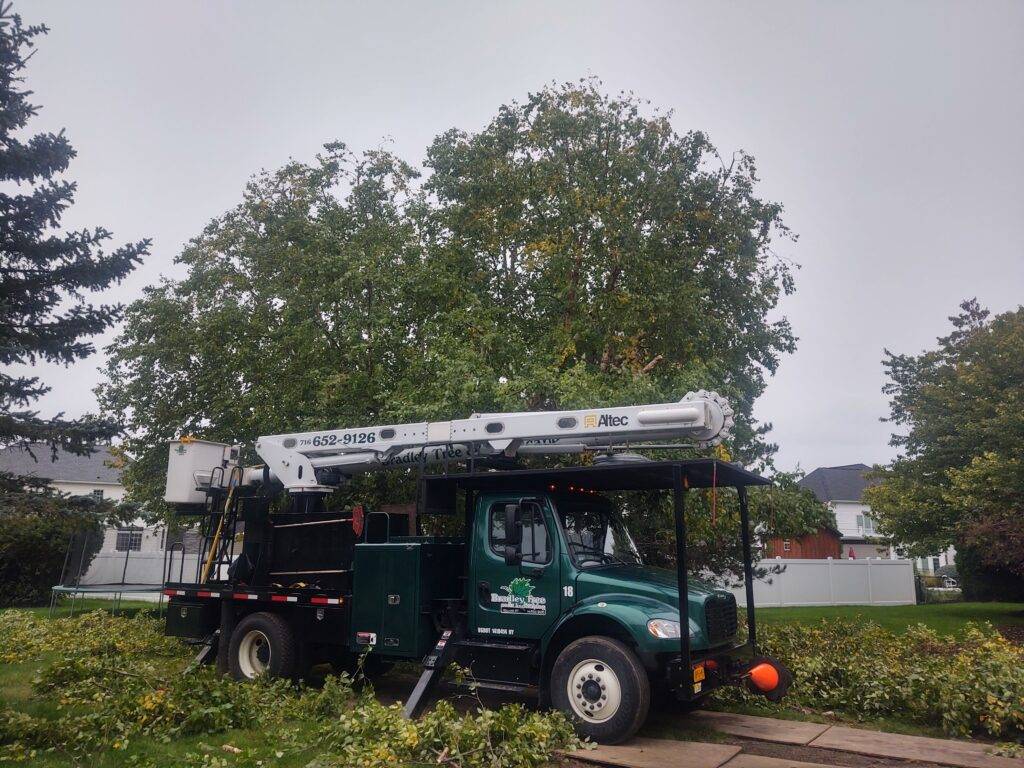 Experts surmise that if left unchecked, the ALB can cause more damage than Dutch Elm disease, chestnut blight, and gypsy moths combined. That's why identification and eradication are so important.
What happens to affected trees?
Trees that are infested with ALBs can go 3 to 4 years before showing signs of decay. The beetles tend to live on the tree in which they were born for future generations to infest it, but can fly up to 400 yards searching for a mate or new host tree. Tree death occurs 10-15 years after infestation depending on tree health and site conditions. Infested trees do not recover or regenerate.
What Can I Do to Prevent Asian Longhorn Beetle Spread?
Don't move firewood. All life stages of this invasive insect can hide inside firewood.

Buy local firewood and burn it in the area

Don't move regulated material from host trees

Firewood, nursery stock, wood debris, lumber

Only plant non-host trees in the quarantine zones
Allow authorized workers and ISA-Certified Arborists to inspect the potentially infested trees
Be aware of quarantines in your area and follow guidelines
Regularly inspect your trees for signs and symptoms of infestation. If you see something, call a local certified arborist and report it to APHIS.
Bradley Tree and Landscaping is the best professional tree service company in the WNY area! Make sure to check up on our blog regularly, where we give you some basic tree care tips, and tricks to keep your landscape healthy! You can also follow along on Facebook for more fun.
Contact Your Local Arborist!
Knowing these invasive pests are around and could pose a harm to your trees is only half the battle! If you beleive your trees are infested, please call an ISA-Certified arborist and report it to the Animal and Plant Health Inspection Service.
Get in touch with us by giving us a call at 716.916.2198 or filling out our online contact form!