Hello and welcome back to our blog here at Bradley Trees! We often talk about the importance of proper tree care and why pruning is so important for allowing your trees to thrive. We wrote in the past about pruning guidelines and the differences between trimming and pruning, but we felt having an in-depth guide on the practice and when you need to call an ISA-Certified arborist to assist would be for the best.
Trees are essential components of our environment, providing numerous benefits such as clean air, shade, and wildlife habitat. Proper pruning is crucial for maintaining the health, appearance, and safety of your trees. In this guide, our ISA-certified arborists share their expert tips and techniques to help you prune trees effectively while addressing common obstacles and determining when to call a professional.
---
Table of Contents
---
The Importance of Pruning
Pruning is a critical aspect of tree care, offering numerous benefits to both the trees and the surrounding landscape. By understanding the importance of pruning, you'll not only promote healthier, more attractive trees but also create a safer and more enjoyable outdoor space.
Tree Health and Structural Integrity
Pruning helps maintain the overall health of trees by removing dead, diseased, or damaged branches. This practice prevents the spread of disease and pests. It allows the tree to focus its energy on the development of new, healthy growth.
Regular pruning promotes strong tree architecture by removing weak, competing branches and encouraging the growth of a dominant central leader. This structural support minimizes the risk of branch or trunk failure, particularly during adverse weather conditions such as high winds or heavy snowfall.
Aesthetic Appeal and Safety
A well-pruned tree enhances the visual appeal of your yard. Pruning creates a balanced and attractive tree canopy, accentuating the tree's natural form and improving its appearance. This practice not only increases your property's curb appeal but also contributes to a well-maintained and inviting outdoor space.
Overgrown or poorly maintained trees pose a safety risk to both people and property. Pruning eliminates hazardous branches that could fall and cause injury or damage, as well as ensures proper clearance from power lines, buildings, and walkways.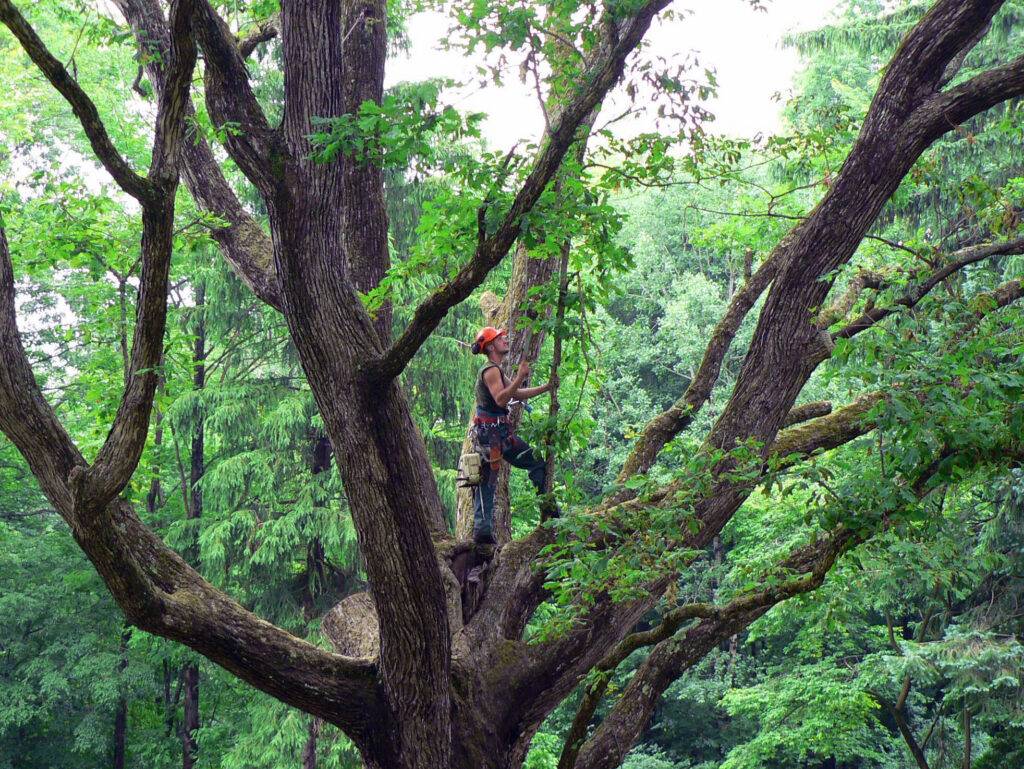 Sunlight, Air Circulation & Fruit Production
Pruning, particularly crown thinning, allows for better sunlight penetration and air circulation. This improved light and airflow benefit not only the tree but also the surrounding plants and grass, encouraging healthier growth and reducing the risk of fungal diseases.
For fruit-bearing trees, regular pruning is essential for optimizing fruit yield and quality. By removing excess growth and directing energy toward fruit production, pruning results in larger, healthier, and more accessible fruit.
Pruning Tips and Techniques
Proper pruning is essential for maintaining healthy and attractive trees. In this guide, we will analyze some basic pruning tips and techniques, focusing on the best time to prune popular tree species native to the eastern United States, cut selection, and proper cuts. We will also discuss the dangers of improper cuts.
Best Time to Prune for Popular Eastern U.S. Tree Species
Deciduous Trees (e.g., oak, maple, and birch): The best time to prune deciduous trees is during late winter or early spring, before bud break. This timing minimizes stress on the tree and allows for vigorous new growth.
Flowering Trees (e.g., dogwood, redbud, and cherry): For trees that bloom in spring, prune them immediately after flowering to avoid removing flower buds. For summer-blooming trees, prune during late winter or early spring.
Evergreens (e.g., pine, spruce, and fir): Prune evergreens during late winter or early spring before new growth starts. However, light pruning can be done throughout the growing season to maintain shape.
Pruning Cut Selection
When pruning, focus on removing dead, diseased, or damaged branches, as well as any branches that cross or rub against each other. Eliminating these problematic branches reduces the risk of disease, pest infestations, and structural issues.
Proper Cuts
Make clean cuts at a 45-degree angle, just outside the branch collar. This allows the tree to heal more effectively and prevents the development of decay.
For larger branches, use the three-cut method to avoid tearing the bark. First, make an undercut a few inches away from the trunk, followed by a top cut slightly further out, and finally, remove the remaining stub with a clean cut just outside the branch collar.
Improper Cuts and Their Dangers
Flush Cuts: Flush cuts are made too close to the trunk, removing the branch collar. This can harm the tree's ability to heal, leading to decay and potential structural issues.
Stub Cuts: Leaving a long stub can promote decay and create an entry point for pests or diseases.
Topping: Topping involves the indiscriminate removal of large branches, resulting in unsightly stubs and weak, fast-growing sprouts. This practice not only compromises the tree's health but also increases the risk of branch failure.
By following these basic pruning tips and techniques, you can effectively maintain the health and appearance of your trees. Remember, proper pruning is vital for promoting tree health, structural integrity, and safety. If you're ever unsure about pruning practices or techniques, it's always best to consult an ISA-certified arborist.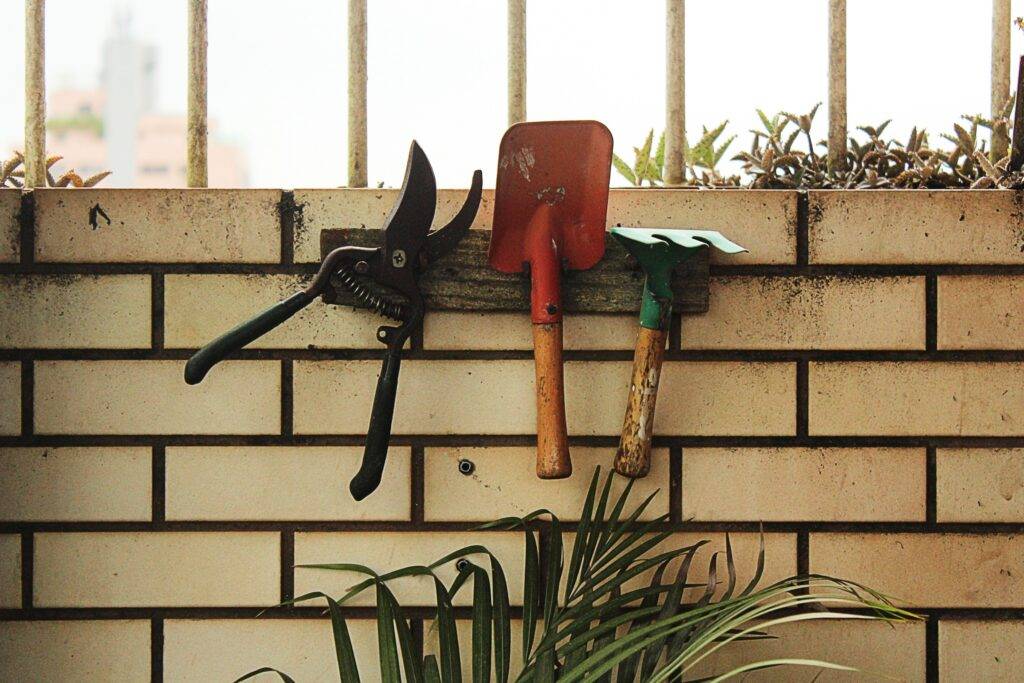 Overcoming Common Pruning Obstacles
Gaining Pruning Knowledge
Educate yourself on proper pruning techniques and safety precautions by reading reliable resources, watching instructional videos, or attending local workshops or seminars on tree care. Familiarize yourself with proper cuts, the best time to prune for different species, and the tools required for each task. By building a strong foundation of knowledge, you'll be better equipped to tackle pruning tasks with confidence.
Gaining Confidence and Experience
Understand that occasional mistakes are part of the learning process. Begin by practicing on smaller, less valuable trees or shrubs to build your skills and confidence. Remember to make clean cuts at the proper angle, just outside the branch collar, and avoid over-pruning. As your experience grows, you'll become more comfortable pruning larger, more valuable trees.
Limited Tool Access
Invest in high-quality pruning tools such as hand pruners, loppers, and a pruning saw. These tools will not only make the task easier but also ensure clean, accurate cuts that promote the tree's ability to heal. Additionally, consider borrowing or renting specialized equipment like pole pruners for hard-to-reach branches.
Handling Large Trees
For pruning trees up to 15 feet tall, use a pole pruner or a sturdy ladder with a stabilizer to reach higher branches. Always have a spotter to hold the ladder and ensure your safety. For trees taller than 15 feet or near power lines, it's essential to call an insured professional to avoid putting yourself and your property at risk.
Tree Species Identification and Pruning Requirements
Learn to identify common tree species in your area and research their specific pruning needs. Many local nurseries, extension offices, or community workshops can provide resources and assistance in tree identification and care. Knowing your trees' species will help you make informed decisions about the best time and techniques for pruning.
Know When to Call a Professional
While many pruning tasks can be managed by home gardeners, there are situations where calling a trusted, ISA-certified arborist is not only advisable but essential. Now, we'll analyze the importance of enlisting professional help when it comes to pruning trees that are too tall, thick, close to power lines, or otherwise unsuitable for home gardeners.
Safety Concerns and Expert Knowledge
The most significant reason to call an ISA-certified arborist is safety. Pruning tall trees, thick branches, or trees near power lines can be hazardous for inexperienced individuals. Certified arborists have the necessary training, experience, and equipment to carry out these tasks safely, reducing the risk of injury or property damage.
ISA-certified arborists have extensive knowledge of tree biology, pruning techniques, and local tree species. They can identify potential issues, such as decay, disease, or structural problems, that may not be apparent to home gardeners. This expertise allows them to make informed decisions about the best course of action for maintaining tree health and safety.
Specialized Techniques and Tools
Arborists are skilled in using specialized equipment and techniques to prune trees effectively and safely. Their expertise in making proper cuts minimizes the risk of tree damage, disease, or future growth problems, ensuring the long-term health and structural integrity of your trees.
Legal Compliance and Tree Preservation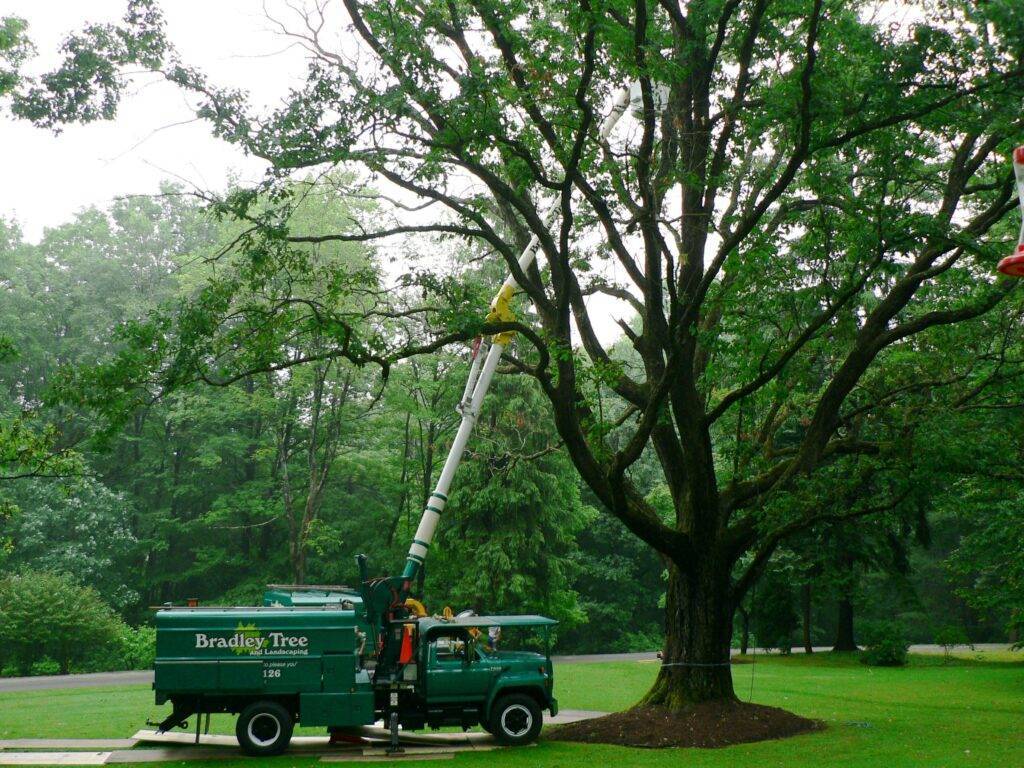 In some areas, permits may be required for pruning or removing trees, particularly if they are near power lines or property boundaries. ISA-certified arborists are familiar with local regulations and can help you navigate the permitting process, ensuring compliance with the law.
Some trees may be deemed unsuitable for pruning by home gardeners due to their size, location, or species. A certified arborist can assess the situation and determine the most appropriate course of action, whether it's selective pruning, cabling, bracing, or removal. Their expertise helps preserve valuable trees and maintain the overall health of your landscape.
Pruning is an essential aspect of tree care, ensuring the health, appearance, and safety of your trees. Here, we summarize the key takeaways from our previous articles and provide a comprehensive guide to home pruning, concluding with actionable tips for readers.
Wrapping Up
Proper pruning promotes tree health, structural integrity, aesthetic appeal, and safety. Of course, that is benefiting your yard through better sunlight penetration and air circulation. Familiarize yourself with proper pruning techniques such as the best time to prune, cut selection, and proper cuts. Avoid improper cuts, which can cause harm to your trees. Educate yourself on pruning techniques, practice on smaller trees, invest in high-quality tools, and learn to identify tree species and their specific pruning requirements. Recognize when to call a professional for tall, thick, or high-risk trees. In certain situations, it's essential to enlist the help of an ISA-certified arborist to ensure safety, expert knowledge, proper techniques, legal compliance, and tree preservation.
Actionable Tips for Home Pruning:
Research proper pruning techniques and safety precautions, using reliable resources such as books, instructional videos, or local workshops. You can practice your pruning skills on smaller, less valuable trees or shrubs before tackling larger, more valuable ones.
Also, Invest in high-quality pruning tools and learn how to identify the tree species in your area and understand their specific pruning requirements. And most importantly, recognize when to call an ISA-certified arborist for tall trees, trees near power lines, or situations where specialized knowledge and expertise are needed.
Successful home pruning involves a combination of education, practice, proper tool selection, and knowing when to call a professional. By following these actionable tips, you'll be well-equipped to maintain the health, appearance, and safety of your trees, contributing to a thriving and beautiful landscape.
Get in Touch!
Remember, our most educated customers are our best customers! Here at Bradley, tree education so that homeowners know how to preserve their gentle giant neighbors is among the most important work we do.
We've been in business for 40 years, proudly serving the Buffalo area and WNY as a whole since the 1980s. Our services include professional tree care, tree pruning, trimming and removal, seasonal plant care and landscaping, tree disease treatment, and more! 
Don't forget to stay up to date with your favorite Buffalo arborists by following us on our blog and on Facebook! If you need an ISA-certified arborist or a consultation, feel free to reach out by calling us at 716.916.2193 or by visiting our convenient contact form.