Hello and welcome back to the blog here at Bradley Tree and Landscaping! Here on the blog, we like to discuss the best ways to take care of your trees and landscaping, give general advice on tree care (and when you need a professional), and some landscaping ideas. We also take time to talk about dangers posed to New York trees, from invasive species of insects, and other tree species. Today, we're going to continue in that vein by talking about the Spotted Lanternfly.
What is a Spotted Lanternfly and What Does it Feed on?
The Spotted Lanternfly is an invasive pest from Asia that feeds primarily on the tree of heaven. It also feeds on a wide variety of other tree and plant species.
The species most at risk from these invasive insects are: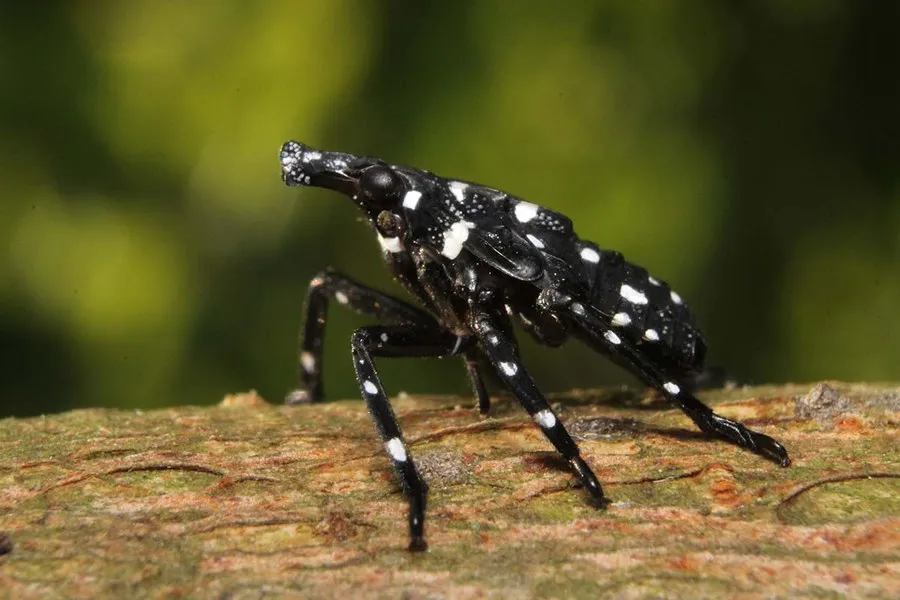 Almonds
Apples
Apricots
Cherries
Grapes
Hops
Maple Trees
Nectarines
Oak Trees
Peaches
Pine Trees
Plums
Poplar Trees
Sycamore Trees
Walnut Trees
Willow Trees
Spotted Lanternfly Lifecycle
Spotted lanternflies go through incomplete metamorphosis, with egg, nymph, and adult stages. They lay their eggs in the fall, usually on smooth surfaces like tree trunks, stones, or man-made structures. The eggs hatch in the spring, and the nymphs go through four instars before reaching adulthood in mid-to-late summer. Adults mate and lay eggs before dying off in the winter.
Why Should I Care?
SLF is an invasive insect with an insatiable appetite for a wide array of plant and tree species, which can severely impact agricultural revenues and depress outdoor enjoyment. If left to their own devices, they could drain the state economy by tens, if not hundreds, of millions of dollars annually. The SLF uses its piercing, sucking mouthpart to feed on tree sap from many economically important species, and leaves wounds behind that attract molds. The feeding can stress the infected tree and cause death.
From its feeding, the spotted lanternfly leaves honeydew, which attracts hornets, wasps, and other insects that can directly harm people. The honeydew attracts and promotes the growth of sooty mold, which can cover forest understories, patio and furniture, cars, and anything below a feeding SLF.
Identification of Spotted Lanternfly
Juveniles, also known as nymphs, are black with white spots that turn red as they become adults. The black nymphs can be seen from April to July, and the red nymphs from July until September.
The adults begin appearing in July and are about 1in in length and ½ inch wide while resting. Their wings tend to be attention-grabbing, with the forewings being gray with black spots. The hindwings are in two sections, with the upper part being dark with a white stripe, and the lower being red and adorned with black spots. Their eggmasses are laid in the fall and are about 1 inch in length. These sticky masses are laid on everything from tree trunks and firewood to rocks and vehicles.
How SLF Spreads and Signs of Infestation
SLF can leap and fly short distances, but their primary method of transport is by hitching a ride with humans. They lay their eggs on vehicles, firewood, outdoor furniture, and other items which are easy to miss the eggmass (which resembles mud smearing), and transported to new areas.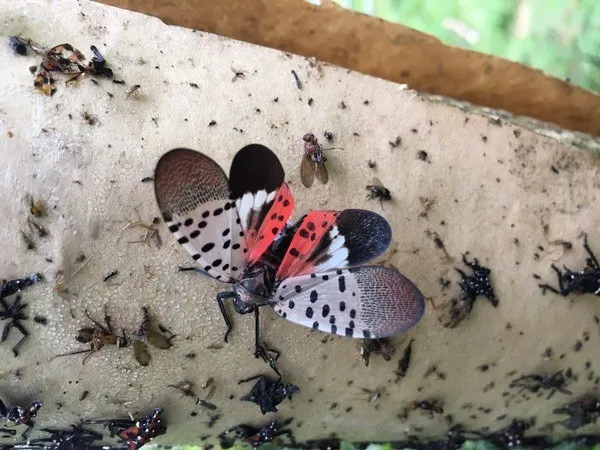 Signs of Infection
Signs of a tree or plant being infested are: sap oozing or weeping from small wounds on tree trunks, which appear wet and may give off a fermented odor. Another sign is one-inch long eggmasses that resemble mud. A third telltale sign of an SLF infection is massive honeydew build-up underneath plants or trees, sometimes accompanied by black sooty mold.
Spotted Lanternfly Control
Quarantine
To slow the spread of SLF, a quarantine has been issued that restricts the movement of goods from quarantined areas in other states (DE, NJ, PA, MD, and VA). Regulated articles must be inspected and certified infection-free before coming in to the state.
Protective Zones
To detect SLF early and quickly respond, a Protective Zone that incorporates 20 counties near and along the border with NJ and PA's infected regions has been established.
​​Contact Us For Your WNY Landscaping Needs!
Bradley Tree and Landscaping are full of professional, ISA-Certified arborists that are always eager to help and educate. As our CEO Jared Webber says,
"An educated customer is our best customer."

Jared Webber
Bradley Tree and Landscaping have been in business for 40 years! We've been proudly serving the Buffalo area with expert tree care services. These include wider plant health care, tree planting and tree removal, tree pruning and trimming, seasonal plant care and landscaping, emerald ash borer treatment, and more! Our exemplary work has earned us the honor of working on Olmstead Park's oldest oak tree with pruning, restoration, and maintenance.
Make sure to check out our blog for more coverage from your favorite Buffalo Arborists! You can also find us on Facebook and YouTube. If you've had us by for some work before, make sure to leave us a review on Google, and if you're unsure, check out those reviews!
If you're ready to reach out, please give us a call at 716-916-2193 or fill out our convenient online contact form.