Hello and welcome back to the blog here at Bradley Tree and Landscaping! Here on the blog, we like to discuss the best ways to take care of your trees and landscaping, give general advice on tree care (and when you need a professional), and some landscaping ideas. We also take time to talk about dangers posed to New York trees, from invasive species of insects, and other tree species. Today, we're going to continue in that vein by talking about the Elm Zigzag Sawfly.
The elm zigzag sawfly is a relatively new pest in North America, and many people aren't aware of its existence. Before it takes root in the region and decimates tree populations, educating our neighbors on what to look for is key to combating its spread. 
Table Of Contents
Introduction to Elm Zigzag Sawfly
What is the Elm Zigzag Sawfly?
Originating from East Asia, the Elm Zigzag Sawfly has become a rising concern in various parts of the world. It was detected in North America first in 2020 in Quebec, and made its way to New York in St. Lawrence County in August 2022. Since then, it has spread to numerous locations across New York, with new cases popping up each week per the DEC. 
The discovery of this exotic pest in North America is actually somewhat of a success story on modern crowd-sourced science. In 2020, its distinct zigzag defoliation was photographed and posted to the iNaturalist Canada website, and was identified and confirmed as EZS by Canadian authorities within a few weeks. Without that curious photographer, who knows how long EZS would have gone unnoticed! 
Why it matters to Buffalo, NY tree enthusiasts
Imagine a Buffalo without its canopy of elm trees, providing shade to our streets, yards, parks and fields. EZS pose an imminent threat to this scenery, which makes it critical to local tree enjoyers. This invasive species can cause severe defoliation of native elm trees and leave them more susceptible to diseases like Dutch Elm Disease. Luckily, here in the US we haven't seen the level of defoliation that some European countries have, specifically in Romania and Hungary.
Identifying Elm Zigzag Sawfly in Your Landscape
Distinctive physical features of the sawfly
From their shiny black wasp-like fly appearance to the unique zigzag pattern their larvae leave on elm leaves, the Elm Zigzag Sawfly is distinctive. These invasive insects are approximately 6-7mm long. Adults are hallmarked by their yellowish-brown thorax with a white patch at the bottom, yellow legs with white tips, and smokey brown wings.
Recognizing the zigzag patterns on elm leaves
This signature zigzag pattern is vital for early identification. However, as populations increase, this pattern may be obscured by further feeding, confusing it with the trails left by other insects.
Damage symptoms caused by sawfly larvae
Look out for severe defoliation and branch dieback. Remember, early detection is essential in managing this invasive species effectively. The DEC is currently reporting that defoliation is minor, with 2 to 5% of leaves showing damage. However, there is a report of Siberian elms experiencing severe dieback. Urban forests could potentially experience the worst damage.
Elm Zigzag Sawfly Life Cycle
Elm Zigzag Sawflies pass through multiple life stages, each unique and fascinating in its own right. Females appear to reproduce asexually and the species can go through 4 to 6 generation cycles yearly. So far, sightings of male EZS have yet to be reported.
Eggs and their location on elm trees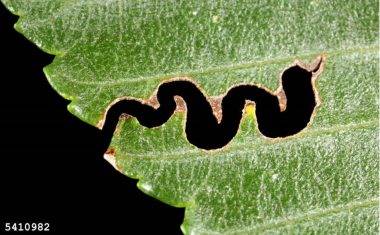 Tiny, blue-green eggs that turn black right before hatching, found attached at the leaf's edge, mark the beginning of the sawfly's life cycle. These eggs are tiny, about 0.8-1mm long and 0.4 – 0.5mm wide.
Larvae development and feeding habits
Emerging as grayish-white caterpillars, these larvae grow and turn more green in color. They exit their eggs at 1.8mm long and 0.3mm wide. Older larvae have a horizontal stripe crossing their eyes and a brown "T"-shaped mark. These older larvae grow to 10-11mm long and 1.4-1.5mm wide.  They consume elm leaves, eventually metamorphosing into the pupa stage.
Pupation and emergence of adult sawflies
Hidden beneath the cocoon layers, the pupae gestate on the underside of leaves, branches, and/or shoots, evolving into the adults, ready to restart the cycle. Summertime cocoons are loose and light, with overwintering cocoons being dense and typically on the ground and hidden beneath decomposing organic material.
Potential Impact on Elm Trees
Damage and stress caused by Elm Zigzag Sawfly infestation
Continuous feeding by sawfly larvae not only scars the elm leaves but also can lead to significant defoliation, threatening the tree's overall health. Elm trees that are afflicted by these invasive insects can become more susceptible to diseases, like Dutch Elm Disease.
The increased risk of disease and pest infestations
Stressed trees send signals, inadvertently inviting other pests, leading to an escalated threat to their survival.
Management and Control Strategies
Nature has its warriors, and so do we. Combating the Elm Zigzag Sawfly requires a blend of nature's forces and human intervention.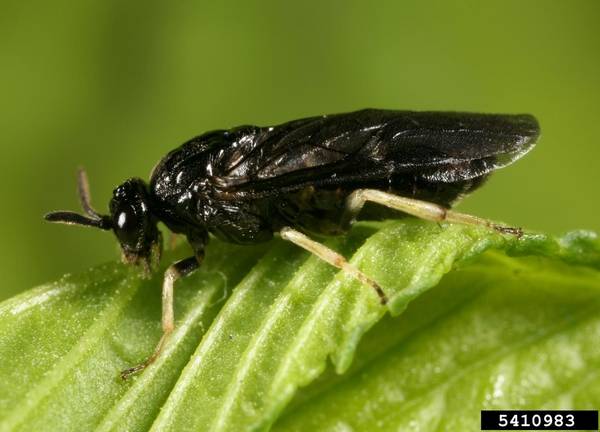 Cultural practices to limit sawfly populations
Strategically pruning affected branches, maintaining overall tree health, and closely monitoring elm trees can keep sawfly populations in check. Additionally, limiting the movements of elm species across county lines, and inspecting existing trees are good measurements too. Destroying or burning pruned material from infected trees is another control effort that we can take.
If you have seen the EZS in your WNY community, please make sure to report it at iMap Invasives! It's an online data management system helping scientists at the local level and environmental professionals to protect our natural resources.
Regular monitoring and inspections
Staying vigilant, and scheduling regular tree checks will help in early detection, ensuring minimal damage.
Pruning affected branches
Cutting off infested parts can prevent further spread, safeguarding the tree's overall health. But remember, tree pruning can be dangerous! Get in touch with an ISA-Certified Arborist for your WNY pruning needs, especially if the branches are high off the ground and/or more than a few inches thick. Tree branches can be much heavier than anticipated.
Chemical control options and their implications
While chemicals can be effective, it's essential to understand their ecological implications, ensuring we don't create another problem while solving one.
Calling an ISA-Certified Arborist for Elm Zigzag Sawfly Infestations
Importance of professional expertise for sawfly infestations
Having a seasoned expert, someone who knows the lay of the land, is crucial in managing invasive species. ISA-certified arborists bring to the table the expertise and tools needed to combat the Elm Zigzag Sawfly effectively.
Bradley Tree and Landscaping's commitment to tree health
At Bradley Tree and Landscaping, our bond with Buffalo's trees goes beyond business. It's a love affair that spans decades.
Our decades of experience and native knowledge
We've been around, watching, and nurturing Buffalo's various tree species, understanding their unique challenges. Our exemplary work in the tree care business has gotten the notice of Buffalo Olmstead Parks, and they have given us the honor of working on their oldest oak trees, to preserve and maintain their beauty for generations to admire and wonder at.
Specialized services and treatment methods for Elm Zigzag Sawfly
With us, you're not just getting a service. You're partnering with experts dedicated to preserving Buffalo's trees, providing them with the best tree care available in Buffalo.
Taking Preventive Measures for Healthy Elms
Routine inspections and early detection
Let's not wait for the invader. Regular checks can help in detecting sawflies early, ensuring our elms continue to thrive. You wouldn't want to wait to head to the vet if something was amiss with your pet, so don't wait when it comes to your trees! The earlier things are caught, the better the outcome for your trees.
Maintaining overall tree health and vitality
Healthy trees are nature's fortresses. Ample watering, timely fertilization, and proper mulching techniques can fortify these natural defenses.
Elm Zigzag Sawfly in the Broader Context
Invasions, like the Elm Zigzag Sawfly, challenge the balance of our ecosystems. It is this delicate balance that we, along with every life form, depend on.
The vital role of informed communities and tree care professionals
Knowledge is power. As communities become more informed, and as tree care professionals continue their tireless work, we stand a better chance against invasive threats. It's like our CEO Jared Weber likes to tell everyone we work with, "Our best customer is an educated customer". Meaning, we are absolutely thrilled when we get the chance to enhance your knowledge of your trees, and how to protect them!
Get Expert Help with Invasive Species Concerns in Buffalo NY
From the towering elms downtown to the young saplings in suburban gardens, our commitment remains unchanged – to safeguard every tree under Buffalo's sky.
Bradley Tree and Landscaping have been in the arbor business for over four decades, since 1982. That makes us as tied to the Buffalo, NY area as anyone and the perfect choice for your tree care needs. A big box, national company could do it, but we know native from invasive species to the region, best care for our climate, and more of the minutiae of landscaping needed here.
Stay tuned to the Bradley Trees blog, where we regularly go over some basic tree care tips and general guidelines on keeping your landscape and plants healthy! You can also check out our FaceBook and YouTube pages for more arbor info. 
Don't wait until it's too late, taking preventive measures is crucial. Remember, it's better to be safe than sorry, especially when a tree is left untreated and becomes structurally unsound. We are always eager to help and provide tailor-made solutions for your tree needs.
Here at Bradley Tree and Landscaping, we go to great heights to please you. Get in touch with our ISA-Certified Arborists today and let's safeguard these gorgeous trees, together. Please call or fill out an online contact form for a FREE first consultation.